Avoid Problems With ATFE & DOT - Make Your Own Customized Electric Igniters In The Field With One Of Our E-Match Field Kits
Tailor Your Igniters For Your Particular Application - Choose From The Most Popular E-Match Kits Available Anywhere!

IGNITION MATERIALS
Firefox Enterprises LLC
BUY SAFETY FUSE, TIME FUSE, STICKY MATCH, BKNO3 BORON/POTASSIUM NITRATE IGNITION PRIME, ELECTRIC IGNITER KITS, NITROCELLULOSE/POLYESTER FUSE COATING, NICHROME WIRE & ELECTRIC MATCH HEADS
The items listed in RED on this page are hazardous and ARE subject to hazardous fees if shipped by UPS. Safety fuse, both Chinese and American made CAN be shipped by US Mail with no hazmat fee.
Safety fuse, both American and Chinese may be shipped by the US Mail (domestic ground service only) with no hazardous material fee. It is your choice which delivery service we use, however, we ship safety fuse by US Mail to save you money unless you specifically ask for the faster UPS service, which is subject to hazardous fees. Be aware that shipments sent by US Mail (USPS) take longer than UPS and they cannot be tracked for delivery information.
Note: 1/4" Time Fuse and Oxral Electric matches are regulated by the ATF and therefore require an ATFE Permit to purchase them. We require a current Signed In Ink copy of your ATFE with your order. These items also require proper storage in your magazine.
Note: For instructions on using the shopping cart, click here.
Color Coding:
Green - means that particular item is not hazardous whatsoever.
Orange - means that item is normally hazardous, but we can ship it without a hazmat fee (you must pay the 1 lb price for it though).
Red - means that the item must be shipped hazardously, regardless of qty ordered (unless otherwise noted).
If you are placing an order with us online, you must be on file with us, regardless of what your first order is. This means that we have to have a signed in ink order form and a copy of your driver's license on file. If you do not have these things on file with us, it will just delay your order. You only have to do it once and then you can order whenever you would like. Go to our order form page to print out the order form there. Then you can use that to fill out and send in.
If at any time you want to review your order so far, please click below


IGNITION PRODUCTS & SUPPLIES FOR ALL APPLICATIONS
WATERPROOF VISCO SAFETY FUSE: (1.4S EXPLOSIVE HAZMAT CLASS)
AMERICAN AND CHINESE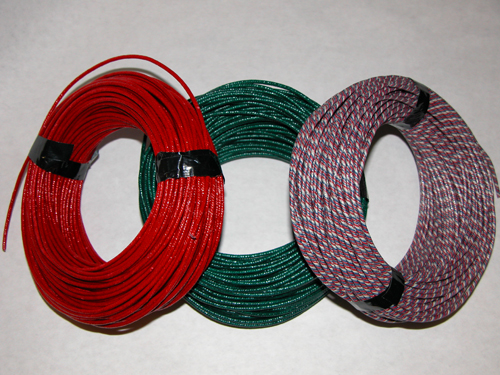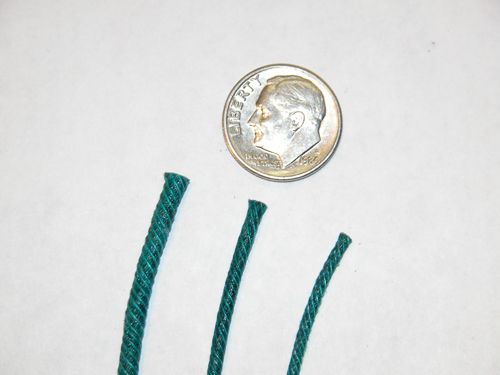 Safety Fuse left to right; American made 2/32" & Chinese 3.0mm, 2.2mm & 1.6mm
AMERICAN MANUFACTURED - Waterproof NC lacquer (visco) coated safety fuse with a burn rate of approx. 30 seconds/foot. Diameters are approximate, representing average OD's. Powder cores increase as diameters increase. Want to see what it looks like? Check here. Qty's of fuse are in 50 ft. Important: If you would like a qty not listed (100 ft for example) just choose appropriate "Order" button and change the qty accordingly (you would pick the 50 ft price and change the qty to 2 in the above example).
Note: Due to the Injunction (See Home page for more information) you are limited to 25 ft of fuse per year unless you have an ATFE license.

Can be shipped by US Mail with no hazmat fee.
Stock #
Fuse Size/Color
25 ft
50 ft
250 ft

F503

CANNON
(.115" GREEN)
$6.25 (4 oz ship wt)

$11.35 (8 oz ship wt)

$51.10 (1 lb ship wt)

F503R
CANNON
(.115" RED)
$6.65 (4 oz ship wt)

$11.70 (8 oz ship wt)

$53.00 (1 lb ship wt)

F503RWB
CANNON
(.115" RED,WHITE & BLUE)
$6.95 (4 oz ship wt)

$13.80 (8 oz ship wt)

$60.85 (1 lb ship wt)



CHINESE MANUFACTURED - Moisture resistant, flexible, varnish coated safety fuse with a burn rate of approx. 30-35 seconds/foot. Diameters are according to manufacturer, representing average OD's. Powder cores increase as diameters increase. **Minimum order is 100ft, which requires an ATFE license to purchase.
Shipped hazmat free by Mail.**

| | | |
| --- | --- | --- |
| Stock # | Description | Price/Ship wt. |
| | | |
| --- | --- | --- |
| | X-SMALL (1.6mm - .065" dia) GREEN | $12.30/ 100 FT(5 oz/100 ft) |
| | | |
| --- | --- | --- |
| | 1.6mm - FULL ROLL (5000 METERS - 16,404 FT) GREEN | $893.75/ ROLL (14 lbs/ roll) |
| | | |
| --- | --- | --- |
| | MEDIUM (2.2mm - .085" dia) GREEN | $12.75/100 FT (6 oz/100 ft) |
| | | |
| --- | --- | --- |
| | 2.2mm - FULL ROLL (5000 FEET) GREEN | $468.00/ROLL (12 lbs/ roll) |
| | | |
| --- | --- | --- |
| | LARGE (3.0mm - .125" dia) GREEN | $14.10/100 FT (10 oz/100 ft) |
3.0mm - FULL ROLL (5000 FEET) GREEN
$531.00/ ROLL (19 lbs/ roll)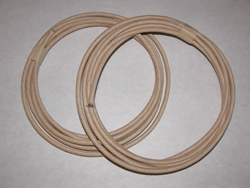 CHINESE TIME FUSE: 1.4s A Federal ATFE permit is required to purchase this product. Chinese Time Fuse can be shipped by US Mail without a hazmat fee.

| | | |
| --- | --- | --- |
| F509 | 1/4" (BURN RATE APPROX. 3 SEC/INCH) | $8.25/10 ft (10 oz ship wt) |
| F509 | 1/4" (BURN RATE APPROX. 3 SEC/INCH) | $510.00/820 ft (13 lbs ship wt) |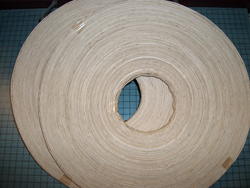 CHINESE QUICKMATCH - IGNITERCORD (1.4G)
Imported paper coated match in 100 ft rolls. Fierce burn, used for firing sequential aerial shells and other display pieces. Shipping class 1.4G - cannot be shipped by UPS or US Mail. Must be picked up at our warehouse or at the PGII / WPA conventions we attend.
| | | | |
| --- | --- | --- | --- |
| F507 | Bundled/paper coated match - 100 ft rolls | not yet available | 2 lbs |

STICKY MATCH ® IGNITION TAPES:
Used like quickmatch for igniting lancework, display sets, aerial shells, etc., Sticky match is a moisture resistant tape that eliminates piercing! Simply stick one tape to another - simple! Saves 60% in labor costs. Two products to choose from:
Fast - burns 80-100 ft per second Slow - burns 1-2 ft per second

Simply stick them together with the tape. No buckets, piercing quickmatch or stringing required. Sticky match is classed as a 1.4S which can be shipped by UPS! No ATFE is required to purchase Sticky match. Shipped by UPS only with hazmat fee.
FSMFST



Sticky Match - Fast (60 ft roll)

very limited supply

$14.40/roll
1 lb/roll ship wt

ELECTRIC MATCHES, COMMERCIAL - OXRAL W/2 METER LEADS (6.5 FT) - UPS Shippable - A Federal ATFE permit is required to purchase this product.
Oxral matches have a removable protective plastic sleeve that protects the head and concentrates/directs the flame forward toward the ignition surface or device to be ignited. Rated firing current is 0.5 amperes. Series firing current is 0.8 amperes per series. Resistance is 2 ohms and no fire current is 200 milliamps (0.2 amps). Out of stock.
Oxral Electric Match - red & blue

Box of 10 Out of stock.

$15.00
1 lb/box of 10 - EX 1.4S

MAKING YOUR OWN BLACK MATCH, QUICKMATCH THERMALITE, ETC...........

COTTON TWINE - 2 & 2 1/2 LB CONES - UNCOATED, UNWAXED
Used for applications requiring slightly stronger, heavier plys, this cotton/poly blend is just right. May be used for black-match, quickmatch, ignitercord and other fusing and for stringing shells. Uncoated for better chemical absoption when making match, etc. Approximate feet per cone listed. Cotton 70% / Poly 30%, leaves a slight ash when burned.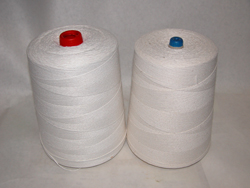 | | | | |
| --- | --- | --- | --- |
| 3PLY | 3 Ply Uncoated cotton twine - 9,810' out of stock | Call for availability | 2 lbs/cone |
| 4PLY | 4 Ply Uncoated cotton twine - 11,340' out of stock | $21.10/cone | 3 lbs/cone |
| 6PLY | 6 Ply Uncoated cotton twine - 7,560' out of stock | $21.10/cone | 3 lbs/cone |
| 8PLY | 8 Ply Uncoated cotton twine - 5,670' | $21.10/cone | 3 lbs/cone |


100% COTTON SAFETY FUSE SPINNING STRING - 7 TO 7.5 OZ SPOOLS
This is the same untreated, non-mercerized 100% cotton string used by the major safety fuse manufacturers such as International, Longhorn, Meremac, American Visco, etc.. It comes on 7 oz spool bobbins spinning weights, 16-2. With a tensile strength of approx 2-3 lbs. For comparison, note the final counter-wrap on visco safety fuse which is generally the 16-2 weight. Clean burning, leaving no ash - 100% cotton. Use it for all your ignition requirements; spinning safety fuse, blackmatch, piped match (quick match), Thermalite, Flying Fish fuse and other special effects fuse, etc.. Firefox will be offering professional fuse spinning machinery in the Fall of 2010 Ask us!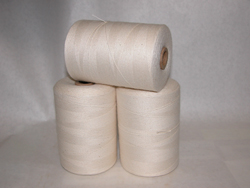 | | | | |
| --- | --- | --- | --- |
| CS16-2 | 100% Cotton String - 3000 yards/spool approx. out of stock | $4.95/spool | 10 oz/spool |


THERMIC IGNITION COMPOSITION - HIGH EXOTHERMIC
Modified with a thermoplastic resin, this composition is moistened with denatured alcohol and pressed into pellets approx. 6-7 grams each or pressed into a prime composition (not supplied) for easy ignition and placed on top of (into) thermite or other difficult to ignite compositions. Upon ignition, combustion develops extreme exothermic, molten alloy slags and an ash that envelops/covers the reaction keeping the heat where it belongs - at the reaction zone! Very easy to use and inexpensive. One pound will make over 70 6-7 gram pellets - each one will ignite raw thermite! For those who have no prime comp, the addition of 10% (by weight) of Potassium Nitrate will also reduce the ignition point for simple ignition using matches. Hundreds of used!! There isn't another composition like it on the market! Non-hazmat shipping- No ATFE required to order.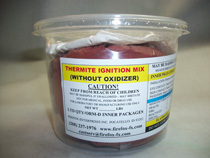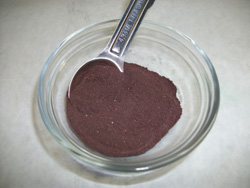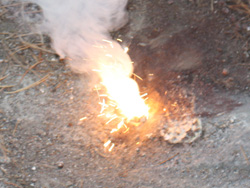 Special (case of 25 1lb units - $237.00/case - ship wt 29 lbs)
| | | |
| --- | --- | --- |
| Stock # SECTIC | $11.25/ lb | $53.75/5 lbs |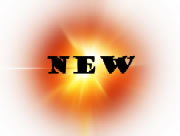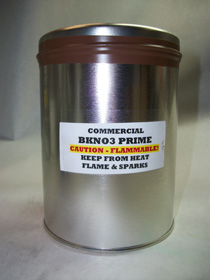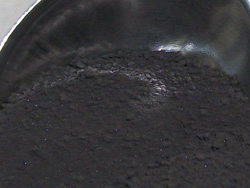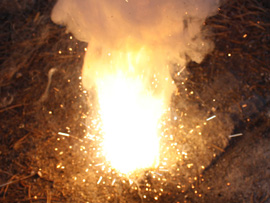 Ready To Use Ignition Granules
Boron/Potassium Nitrate Ignition Granules, 10-60 mesh [BKNO3] - Stock # C124BKNO3 - 1.3c
Boron, used extensively in thermic ignition compositions because of its extremely high heat of combustion, is combined with potassium nitrate (75%) and Ethyl Cellulose (1%) granulated into a flowable ignition mixture with a heat of reaction much higher than most any other ignition prime. It is used in many military devices, automotive gas air bag cartridges and other industrial use. This commercially produced igniter composition is 24% Boron for reliable ignition of most any pyrotechnic mixture. With boron prices being what they are, you cannot make it yourself at a lower cost than this, nor will you find it anywhere else at any price! Easy to use, simply press the granules into place or they can be mixed with nitrocellulose lacquer and applied. One pound goes a long way! Weight wise, there is 7000 grains in a pound. It takes as little as 5 grains per device for ignition. That means you will be able to reliably prime up to 1400 devices per pound of BKNO3! Reliable ignition for less than 2¢ each!
While supply lasts. . . . .Sold in full 10 lb cases only. . . . .Shipped by motor freight
| | |
| --- | --- |
| | Must be shipped by motor freight or picked up |

FIRST FIRE / PRIME COMPOSITION - THERMIC
For the dozens of you requesting a reliable prime composition without ordering several chemicals to make it, we have tested and added a mixture of ingredients that when combined with an oxidizer (not supplied) will provide a hot first fire reaction to ensure reliable ignition of the main charge. Either Potassium nitrate or Potassium perchlorate may be used with it depending on the type of composition it will be in contact with (compatibility). Add Potassium perchlorate for priming compositions containing Ammonium perchlorate (or compositions requiring higher combustion heat) and Potassium nitrate for others. Non-hazmat shipping- No ATFE required to order.